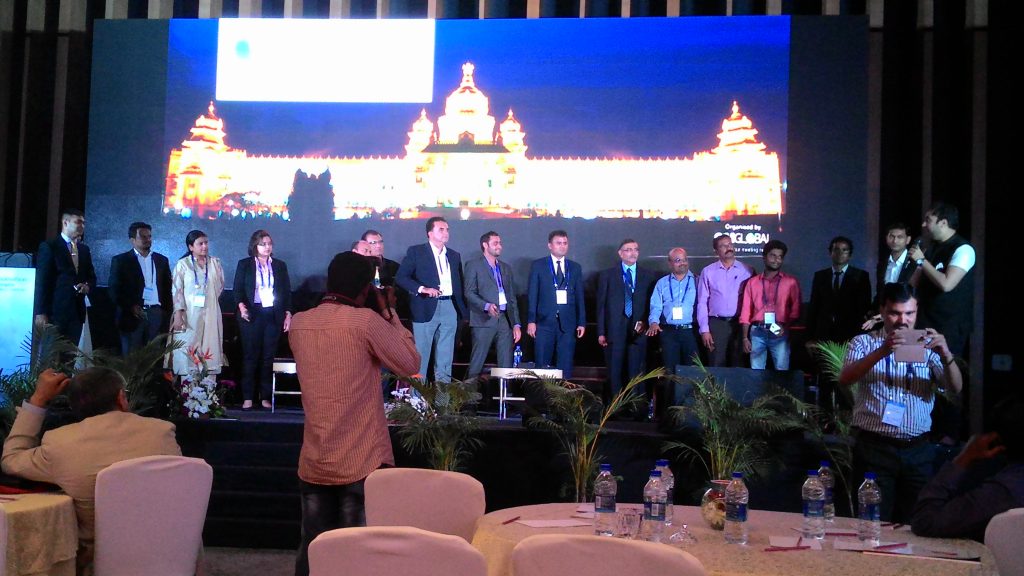 Amarantos was invited to present at the International Health Tourism Congress 2017 and demonstrate to the technical media. Below is the report by Murali our honored Amarantos Trained Therapist.
Day 1, Fri, Mar 03, 2017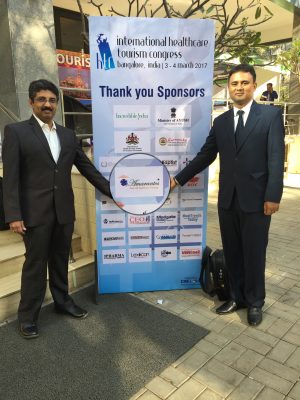 The day started at 05:30 am for me. It was Mar 03, 2017 – first day of IHTC 2017 at Vivanta by Taj at Yeshwanthpur. Anitha and her team at CIMGlobal had put their heart and soul into the event for over two months. Venu, Neha and I had spoken to Anitha couple of times in the last one month or so in preparation for the event.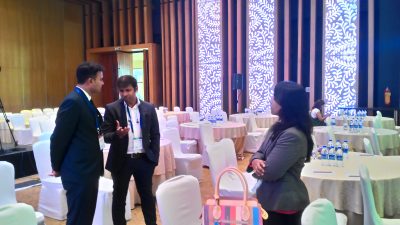 While I reached the venue by 08:15 am, Venu and Neha were there by 08:00 am. Anitha had called the previous night and asked that all of us be there in time by 08:30 am. We chatted for few minutes at the lobby, completed the registration formalities and took few pictures. The guests/dignitaries arrived and the event got off to a start by 09:15 am. Anitha and her team were buzzing around to make the event a wonderful experience for the delegates and speakers.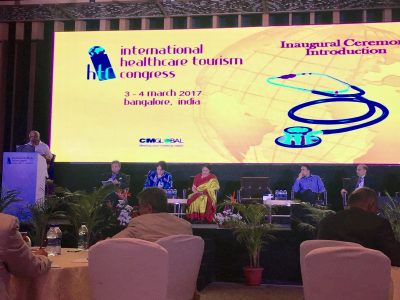 Opening comments of Dr. Hema Divakar's speech are etched in my mind. She started with a Namaskaar and gave a wonderful explanation of how it transcends time on a 24 x 7 basis. Inaugural speech by the Minister for Health and Family Welfare, Government of Karnataka – Sri Ramesh Kumar and keynote speech by Prof. Ravi Ramamurti, Distinguished Professor at Northeastern University and the Founding Director of the Center for Emerging Markets, USA stood out for their crispness and content.
As the day progressed, we learned that there could not be any possibility to play music outdoors for Neha's Yoga session. However, I saw Neha staying cool, taking stock of the situation and proceed to conduct a wonderful session. In the meantime, Venu had connected with a journalist and fixed the time for explaining about PLR and, if possible, conduct a session the next day.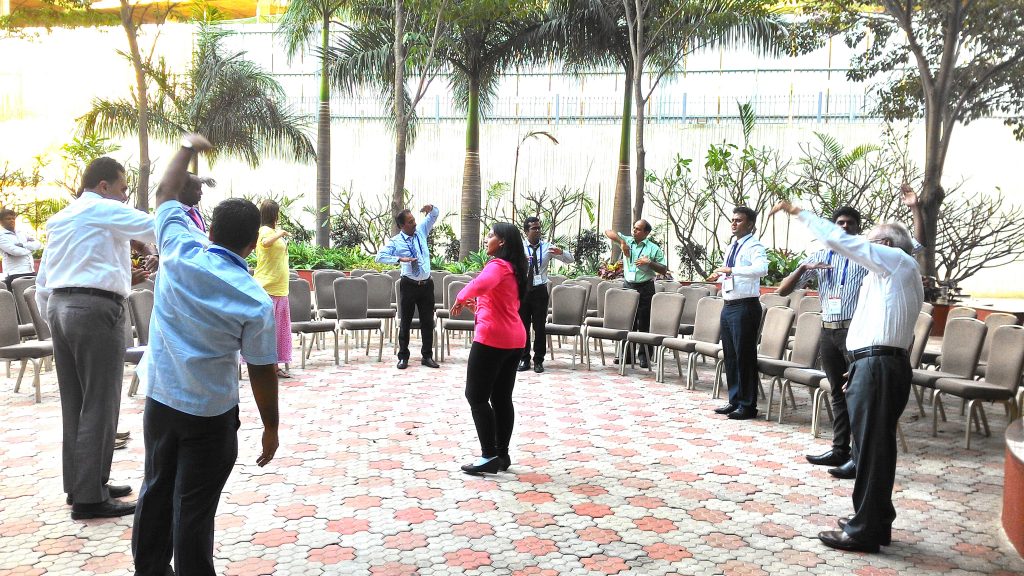 During the afternoon sessions, I became aware that I was feeling heavy in the head and having a tightness in my tummy – very similar to what I felt when attending a day-long workshop on Cognitive Behavioral Therapy. Realized that I have something internal to meditate on.
Venu, Neha and I agreed to be at the venue next day by 08:30 am. Overall, the day ended on a very good note.
Day 2, Sat, Mar 04, 2017
All three of us were at the venue by 08:30 am. Venu stepped out by 09:15am to work with the journalist…Neha started networking with people…while I continued listening to the speakers.
I was amazed by the number of talented doctors available…by the huge advances in medical technology…by the capabilities that hospitals had added to their kitty. As these aspects were sinking in, I became aware once again that my head had started aching – unable to take the graphic details of the different illnesses that folks in hospitals deal with on a daily basis.
Very soon it was 03:50pm … a welcome relief from a headache I had … Venu was called on stage to speak about PLR … he started his session with a relaxing music, had the lights switched off and guided all the people in the room into a relaxed state recollecting a happy moment in their lives. He followed this session through with a short presentation on PLR. At a point during his session, I was amused to sense some participants feeling out of place – after one and half days of hard, fact-based sessions on a medical domain, they were in an experiential session that could not be quantified or qualified as easily as the fact-based medical sciences…but, well researched by psychologists/psychiatrists such as Dr. Brian Weiss, Dr. Ian Stevensen and Dr. Raymond Moody.
Responses from some of the participants after the session was really heartwarming – the efforts that we had put in the past few weeks were worth it.
The evening ended with a group photo session and delegates having general chit chat amongst themselves. It was nearly 08:00pm when we left. We were joyous and elated at having learnt many invaluable things, at making new friends…we had questions at the back of our minds on how we were going to handle the queries/requests regarding PLR. We left the venue being aware that we are being led by The Masters just like we have been led so far 🙂
Kind regards,
Murali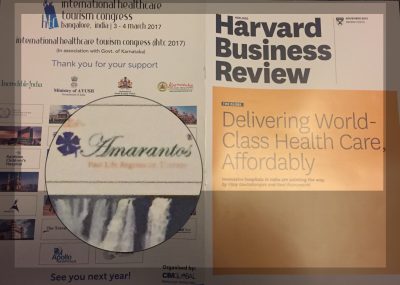 Below is the feedback from Anitha Niranjan, Managing Director of CIMGlobal who invited Amarantos to this event.

Text is as below
While designing the program of IHTC we noticed that health of the body was given all the prominence and we wanted to add health of the mind and decided to invite Amarantos to present their experience in Past life regression therapy and the audience which composed of medical tourism facilitators, medicos and professors and doctors welcomed their talk and there was an overwhelming response. We look forward for continued engagement with Amarantos and continue to explore the unknown within.
Thank you.
Kind Regards,
Anitha Niranjan
Managing Director