It is crowded everywhere these days and it is astonishing to know that it is so even on the summit of the highest point on Earth. 
We at Amarantos firmly believe that nothing great can be accomplished in a crowd. The PLRT Program Venu had visited with Dr Weiss had a minimum of 150 members and with just 25 hours of training cramped in a 1500 squares room.
Needless to say, it was almost impossible for anyone with a non-professional background to become a PLR Therapist.
Hence at Amarantos, we shortlist applicants and do our best to keep the numbers as low as is feasible. What is the result of it?
Watch these two videos 
1. We Handhold until you take-off!
Soumya a.k.a Sam has a day job of being a Clinical Pharmacist started her journey with Amarantos and had spoken thus after her training from Amarantos as part of the Aster (Aug 2018) batch–https://youtu.be/3AdvNZ4laVo 
From there to now having her own PLRT Studio in the heart of Bangalore City—What a journey! 

Know more about her here https://forum.amarantos.org/t/hello-from-soumya/
2. Impact Like Never Before
3. Transofmring the life of a Life Coach!
She wrote in her objective for learning PLRT from Amarantos was
Of late I've been coming across various scenarios that deal with the effect of our past lives on our present. During one of my sessions with my client, as I was using NLP to take her back in time, she jumped straight into a past life and then a few others from there. Having read most of Dr. Brian Weiss' books, I was able to help her go through her lives and take the learnings thereof and heal her present. The transformation that I've had with her is amazing and I'd like to learn a structured way to do this with others as well. I've also had visions of myself in different lives and I'd love to have a regression done to help me understand more about myself and my purpose. Life Coach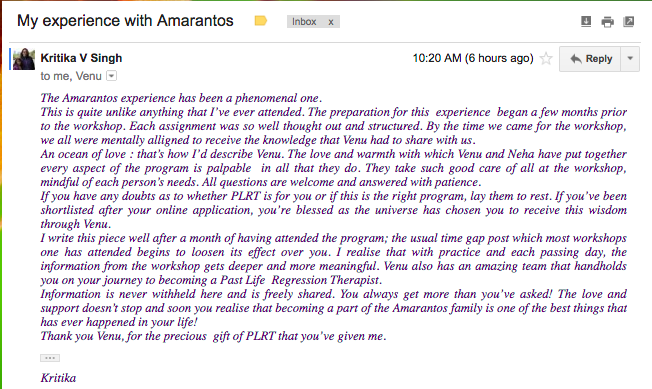 This is what she wrote after the program
The Amarantos experience has been a phenomenal one.

This is quite unlike anything that I've ever attended. 

The preparation for this  experience  began a few months prior to the workshop. Each assignment was so well thought out and structured. By the time we came for the workshop, we all were mentally alligned to receive the knowledge that Venu had to share with us.

An ocean of love : that's how I'd describe Venu. The love and warmth with which Venu and Neha have put together every aspect of the program is palpable  in all that they do. They take such good care of all at the workshop, mindful of each person's needs. All questions are welcome and answered with patience.
If you have any doubts as to whether PLRT is for you or if this is the right program, lay them to rest.
If you've been shortlisted after your online application, you're blessed as the universe has chosen you to receive this wisdom through Venu.

I write this piece well after a month of having attended the program; the usual time gap post which most workshops one has attended begins to loosen its effect over you. I realise that with practice and each passing day, the information from the workshop gets deeper and more meaningful. Venu also has an amazing team that handholds you on your journey to becoming a Past Life  Regression Therapist. 
Information is never withheld here and is freely shared. You always get more than you've asked! The love and support doesn't stop and soon you realise that becoming a part of the Amarantos family is one of the best things that has ever happened in your life!
Thank you Venu, for the precious  gift of PLRT that you've given me.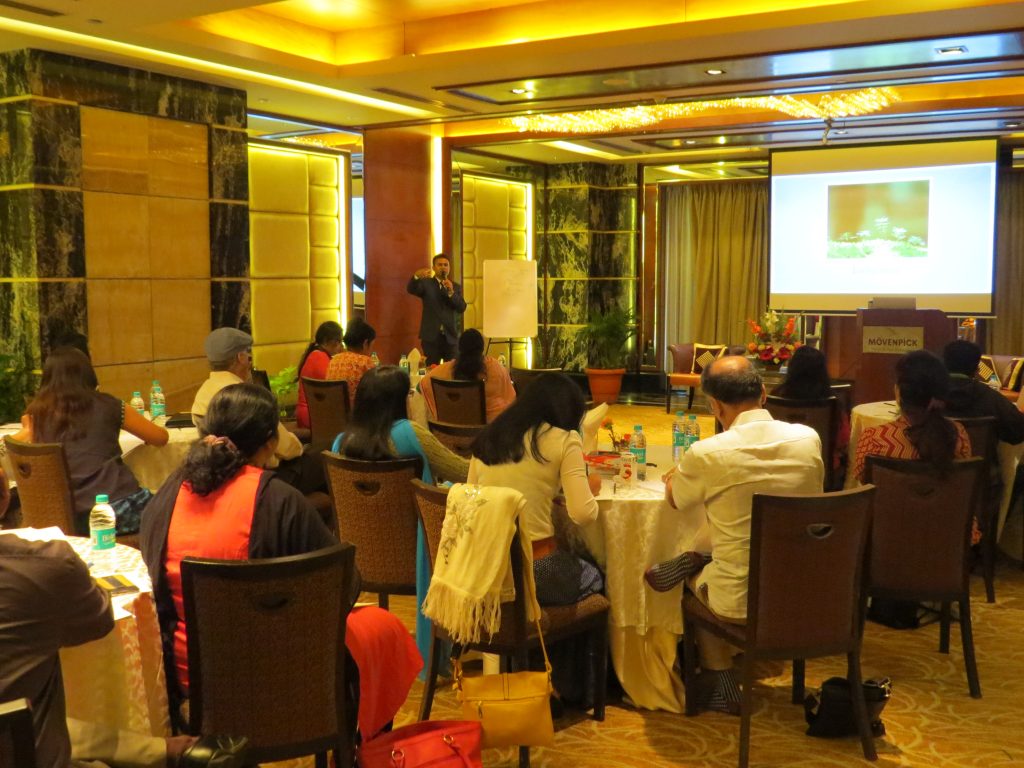 Intensive Training & Experiential Workshop
Apply For The Program And On Being Shortlisted You Will Be Able To Attend This Once In A lifetime Experience.
The next upcoming event is from 15th to 19th Aug 2019.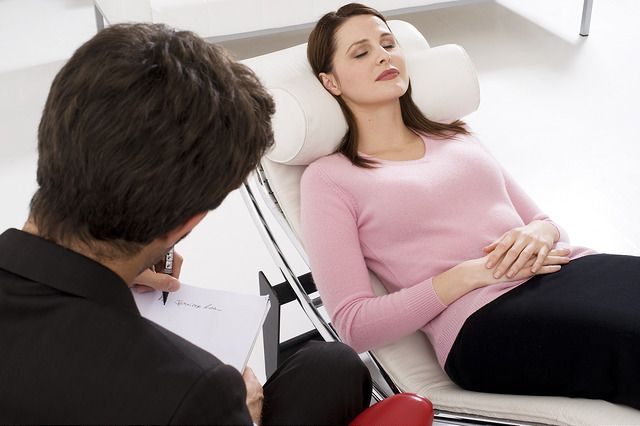 Experience PLRT in a one-on-one session
Based on special request Mr. Venu Murthy conducts Past Life Regression Therapy Session in Bangalore. 
Next Available Appointment is in Nov 2019.