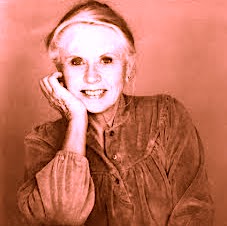 Dr Winafred Blake Lucas PhD (1911-2006) grew up in Puget Sound and received her B.A. from the University of Washington. She obtained her doctorate from the University of California, Los Angeles in 1949 (only the 8th year in which UCLA awarded Ph.D.s to women).
Dr Winafred was a pioneer in the new field of Past Life Regression Therapy. Her book, Regression Therapy: A Handbook for Professionals, remains the definitive textbook.
In the 1930s, she travelled to Europe for her doctorate work in Sanskrit in a European university. Which is when she came to know of a new discipline called 'Clinical psychology.' Since then she has been involved in various aspects of psychology (Jungian analysis.)
On the onset of World War II, she returned to the United States and transitioned to studying psychoanalysis–it was in its nascent stages and hence was limited only to the behaviourist approaches (Freudian.) She specialised in work with children and Rorschach tests.
Dr Winafred was a rare balance of introspection and quick to action. Even at the age of 94, this is one of the inspiring lines from her last letter. "It has never been in my plan to be unproductive at any time of my life."
If this is how active she was at 94, we can quite imagine how energetic she must have been when young. Winafred's interests led her away from psychoanalysis to
Rogerian therapy,
Transpersonal Psychology
Transcendental Meditation
Progaff Journal Therapy
Encounters & Adolescent groups
Roberto Assagioli's Psychosynthesis
All the above seemed to be the stations on her journey in the spiritual dimension.
She was a compassionate person who developed a reputation for understanding LGBT psychology at a time when most clinicians treated homosexuality as pathological.
Past Life Regression Therapy and Prenatal & Perinatal psychology emerged in the late 1970s when analytic therapists around the world discovered that their patients/clients were going back to their childhood or other times and places when asked to go back to the cause of their chronic problem. With her splendid zeal and research, she systematised the process in a therapeutic context which is now graduated to be known as Past Life Regression Therapy. For this contribution, she is declared as a pioneer of this field, which in recent years has gained much traction due to the charismatic evangelism of Dr Brain Weiss.
Dr Winafred Blake was one of the founding members of the International Association for Regression Research & Therapies (formerly APRT). She also founded and ran the Institute of Regression Therapy Training program in Sedona, AZ, and served on the core faculty of the California School of Professional Psychology (now Alliant University).
Below is her last letter taken from the page maintained by her daughter Dr. Afton Blake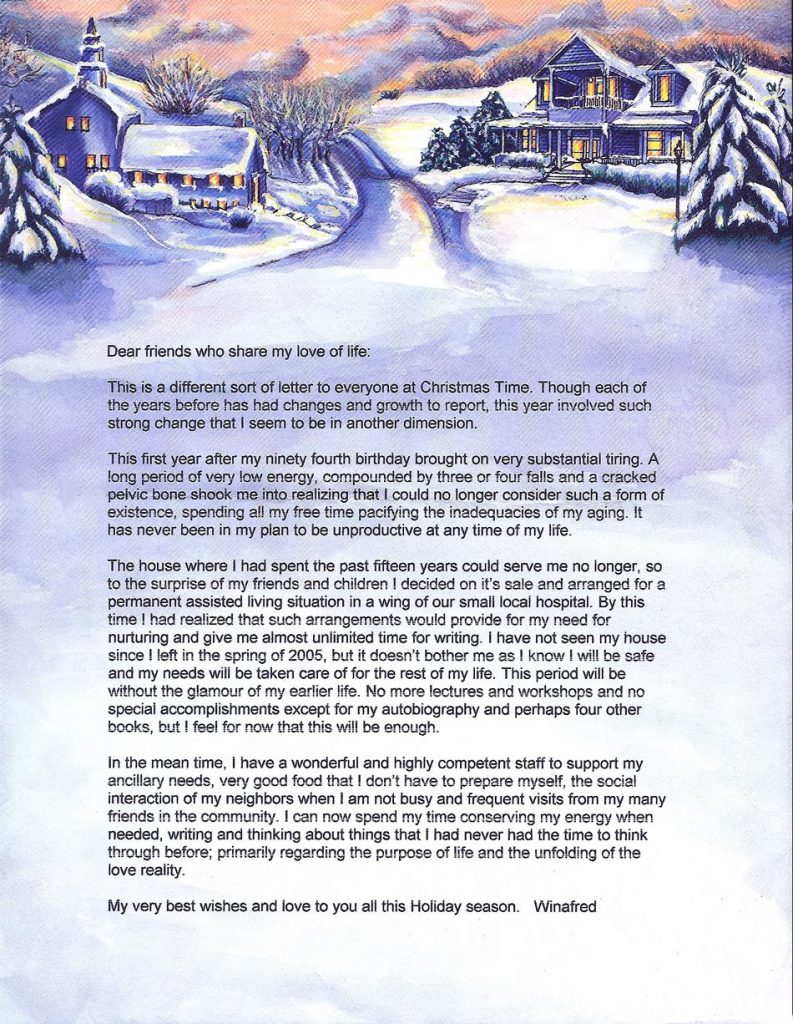 Sources: https://sites.google.com/site/drwinafredblakelucas/regression, http://regressionjournal.org/jrt_author/winafred-lucas/